Lawncare, Landscaping and Total Grounds Maintenance Services
Total grounds maintenance from a professional local area lawn care and landscaping service like Hoffman's Property Services takes the worry off your shoulders by delivering what you want and need to have the fantastic lawn, landscape, and grounds you've always pictured — whether that's for commercial or residential properties.
At Hoffman's Property Services, we begin by making sure we understand your lawncare needs with a detailed evaluation of your property. Once we've made our diagnosis, we develop the best solutions, whether that's a one-time treatment of a specific lawn problem or ongoing maintenance to keep your landscape and property looking it's best.
Personalized Service
Hoffman's Property Services understands that no two lawns are exactly the same, and doesn't believe in a "one size fits all" approach. Rather, we believe in customizing our lawn care and landscaping services to fit each customer and their grounds. We're local professionals who understand the needs of our area and offer a trustworthy, reliable, personalized service for all your lawn and landscape needs.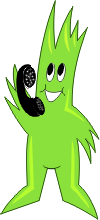 • Lawn mowing & trimming
• Lawn fertilization
• Weed control
• Mulching
• Aeration
• Landscaping
• Seasonal snow plowing and salting services
Call us today at 330-530-LAWN (5296) to schedule your consultation or to learn about any of our extensive, professional total grounds maintenance services.